Selected Writing Samples by Scott A. M. Ross
COMEDY
Arts & Culture Beat: "Must the Show Go On?" – Webpilot.
Jaded grad student Peter Carson is all set to rest on his laurels as advisor of a defunct radio news team. But two staffers who have even less going for them than he does have other plans.
Sketch Reel for Scott A. M. Ross
Selected sketches written and produced by Scott Ross, including: Kid Hop!, Audio-Only Porn, A Muppet Catcher in the Rye, Westboro Baptist Church Ad, and Passive Aggressive Solutions.
Adventures of the USS Carpathia: Episode 9
"Domestic Planetary Union, or, Every Cloud Has its Silver Whining"
A genius from Earth's past is found adrift in space by the sanctimonious Planetary Union. The Carpathia is sent to bring him home, but he's none-too-pleased with humanity's progress since he left.
Adventures of the USS Carpathia: Episode 3
"Reunited and it Feels so Awkward, or,  Homeward Bound and Gagged"
The crew of the Carpathia return to AstroBase HQ in Colorado Springs for a scientific conference, a reunion with family, and a night life only a place like The Springs can offer. Script of Act 1.
Audio Only Porn
Jack Hammer just wants to deliver this steaming hot pizza to Cindy and Tami, who are all alone in this big mansion with only one bathing suit. Why do people have to make it all weird?
Westboro Baptist Church Advertisement
Topeka, Kansas-based Westboro Baptist Church has faced its share of bad PR over picketing service members' funerals, preaching against homosexualtiy, and running the domain godhatesf*gs.com. This helpful ad tries to brush up that image!
Kid Hop!
Radio personality and anger management candidate Peter Carson presents the latest sensation in children's music: your favorite hiphop hits, rewritten and rerecorded in a fun, family-friendly style!
JOURNALISM
Voter Guide to Missouri Amendment 8, The 'Veteran's Lottery Ticket' – KCUR-FM, 29 Jul 2014
PHOTOS: The Long And Short Of Kansas City Beards – KCUR-FM, 7 Aug 2014
Roeland Park Will Vote on LGBT-Inclusive Anti-Discrimination Policy – KCUR-FM, 16 Jul 2014
Step Up – Spot news segment aired on KCUR-FM, 21 Jul 2014
English Accents, Issue 1 – Alumni Newsletter designed and edited, Spring 2013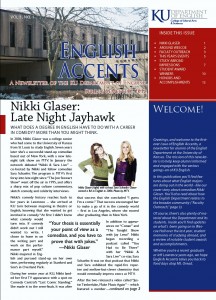 "Revinyl-vival". Exploring the modern revival of vinyl records, and why the experience of vinyl is worth all the trouble for true enthusiasts. Aired on KJHK's Ad Astra News, Feb 7, 2013. 1st place, Enterprise News Package, Kansas Association of Broadcasters 2013.
Six for Switzerland – Mark Brooks. Article in offBeat Magazine
Songs for the Saints. Article in offBeat Magazine
Other Creative Work
"Not-So-Distant Africa". Reporting on my African safari with my father and sister, the surprising familiarity of it all and how it led to dealing with past issues. Aired on KJHK's Ad Astra News, Apr 11, 2013.
 /  – Nonfiction form essay. Read at Working Words in Kansas City, Nov 2012
An exploration of indecision, uncertainty, and the things that get left behind with every choice we make.
Dispatches from Onboard the Victory – Prose poem/experimental nonfiction.
A contemplation on contemporary masculinity and identity in crisis.
Duckbox #11: Tear Duckts. Comic in Knee-Jerk Magazine
Scholarly Materials
"The Masters of the Khmer Rouge": Cambodia Between China and Vietnam, 1954-1975 – Senior honors thesis analyzing Cambodia's Cold War relationships with Communist Asia, and the interplay of internationalist ideologies with realist national agendas. For citation purposes, Scott Ross is a graduate student in creative writing at the University of Kansas and holds a BA in history from the University of Missouri.
Public Forum Debate evidence briefs, contracted researcher for Db8Zone LLC, Nov 2010-NFL 2011.
CV/Resume
Resume – Scott Ross– June 2014
Curriculum Vitae – Scott Ross – Apr 2013